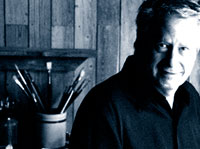 I was born in east Texas but didn't stay long enough to develop roots. As an Army brat, I attended 26 different schools throughout the U.S. and Europe. I've spent most of my adult life in Oklahoma and consider myself an official "Okie". I now live with my wife in a shady Oklahoma neighborhood. My backyard cedar studio boasts a view of our flower garden. My two kids are on their own and we delight in our four grandchildren.
After receiving a BFA from the University of Central Oklahoma, I became a graphic designer and watercolor artist. I've been fortunate enough to win numerous awards from various regional and national exhibitions
In the past few years, I 've been painting in oils. I enjoy the looser style, use of texture, and brighter color that oils afford me.
If you're interested in purchasing a painting or would like to discuss a commission, don't hesitate to email me. I would love to hear from you!